• The Turf •
The Turf selection for Mattaponi Springs was driven by golfer "playability" -- Zoysia for the fairways and L93 Bentgrass for the greens. The fairways were sodded and the greens seeded during 2003. The grass was given over a year to grow and mature. The fairways are lush and full. The greens are smooth, true, and receptive to approach shots.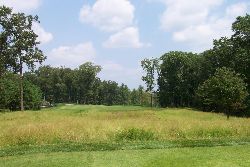 Fairways and Tees
Zoysia is denser, finer-textured and more upright in its growth than many other grasses. These qualities combine to create an unhindered playing surface on which the ball sits raised from the ground. This provides an outstanding striking surface and greater resistance to divots and heat stress. Results were so positive that Zoysia was used on the driving range and tees as well.
Greens
L93 Bentgrass is a state of the art turf that is very resistant to high levels of play and low mowing heights. Mattaponi Springs' greens were designed to allow more than ample sunshine and air circulation for quality putting speed and smooth roll year round.