- Rates -
Daily Golf Rates
Starting April 1, 2021
Become a Preferred Player and Receive Specials through out the Year
Current Rate
Mon - Thurs

Fri, Sat, Sun &
Holidays

18 Holes
$69
$89
9 Holes
$39
$59
Senior (60+)
$54
$74
Ladies

$54

$74

Military (Active Duty & Retired- Valid ID Card)

$54

$74

Twilight (2:10pm)
$54

$74

Replay - 18 Holes
$35
$40
Replay - 9 Holes
$20
$30

Junior** Walking or accompanied by paying adult

Junior - 16-17 Riding w/o adult / Must have D.L.

$30

$40

$35

$50
** Walking -- Based on Availability (Saturday, Sunday, Holidays accompanied by paying adult)
All Players' fees include 18 holes of golf with a shared cart and practice balls.
When reserving tee times for Saturday and Sunday, a credit card deposit will be required.
Mattaponi Springs Golf Club does have a dress code(see below).
Personal coolers and outside food and beverages are not permitted on the golf course.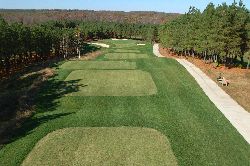 Dress Code

Men: Slacks or golf shorts must be worn, with a collared shirt. Denim, T-shirts, tank-tops, cut-offs, sweat pants, bathing suits or athletic shorts are prohibited.
Women:

Slacks, golf shorts or golf skorts must be worn, with a collared shirt.

Denim, Halter-tops, T-shirts, bathing suits, sweat pants; athletic shorts or short shorts are prohibited.
Shoes: Acceptable shoes must be worn at all times. Golf shoes with soft spikes are mandatory. Soft spikes are available in the Pro Shop. Flip flops or non golf sandals are prohibited.
- Tee Times -
Book your Tee Time UP to 7 Days in Advance
Tee Times are available from Sunrise to Sunset, 7 days a week.
Group and advanced tee times are available.
To book your tee time, please call the golf shop at (804)-633-7888.